Breath of Fire
Ameblob
グリーンブロブ Guriinburobu (Green Blob)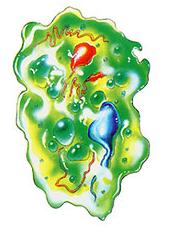 HP
AP
75
Infinite
ATK
DEF
ACT
WIS
48
40
50
20
EP
GP
60
45

Element
Lightning & Earth
Row
Front
Aiming
Normal
AB priority
2
Location
Cave of the Cleansing Water
cave north of Tantar
cave linking Tantar to Auria
cave linking Bleak to Arad
Spyre
Drop
C.Stn
Life
Drop rate
0.78125%
Actions
Cura
Flare
Info
When its Hp reaches 25 its normal attack is replaced by flare.
Ameblob is an enemy found in Breath of Fire.
Ameblobs are large green amoeba like creatures. They are a weak opponent who have an unlimited resorce of AP. Ameblobs are commonly found around areas such as Spyre, and certian caves.
Related Enemies
Edit
Ad blocker interference detected!
Wikia is a free-to-use site that makes money from advertising. We have a modified experience for viewers using ad blockers

Wikia is not accessible if you've made further modifications. Remove the custom ad blocker rule(s) and the page will load as expected.