Beak (Breath of Fire)
Talk

0
1,594pages on
this wiki
Breath of Fire
Beak
ガンヘッド Ganheddo (Gunhead)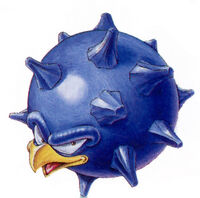 HP
AP
14
0
ATK
DEF
ACT
WIS
18
20
15
5
EP
GP
8
8
Beak is an enemy found within Breath of Fire.
Beak is a monster in the original Breath of Fire. Beak is a large blue spiked ball with a beak.
Beak is a somewhat strong enemy found around Camlon, Aura Cave, Karma, and Nanai. It can drop either a Herb or a Antdt, each Beak is worth 8 GP and 8 EP when defeated.
Also found in Breath of Fire 2 known as Gongheads
Related Enemies
Edit