Breath of Fire
Beak
ガンヘッド Ganheddo (Gunhead)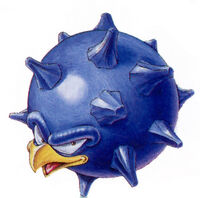 HP
AP
14
0
ATK
DEF
ACT
WIS
18
20
15
5
EP
GP
8
8
Beak is an enemy found in Breath of Fire.
Beak is a monster in the original Breath of Fire. Beak is a large blue spiked ball with a beak. Beak is a somewhat strong enemy found around Camlon, Aura Cave, Karma, and Nanai. It can drop either a Herb or a Antdt, each Beak is worth 8 GP and 8 EP when defeated.
Related Enemies
Edit

Ad blocker interference detected!
Wikia is a free-to-use site that makes money from advertising. We have a modified experience for viewers using ad blockers

Wikia is not accessible if you've made further modifications. Remove the custom ad blocker rule(s) and the page will load as expected.