Breath of Fire: Dragon Quarter
Bind Spider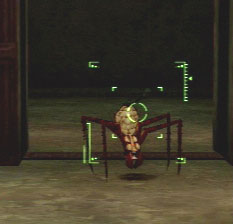 Attack
Defense
Magic
Speed
Move
25%
75%
25%
25%
75%

Location
Old Waste Shaft
Steal
Escape
Steal Rate
1:4
Drop
Footloose

Lurid Dust

Drop Rate
1:4

1:2

Abilities
Shadowswitch
Info
Binds enemies with Shadowswitch, then causes out hit-and-run attacks.
Bind Spider is an enemy within Breath of Fire: Dragon Quarter.
These arachnoid Genics are found early in the game. Some will try to ambush the party by dropping from the ceiling. As their name implies, they cause the Bind status effect to immobilize their targets, while being immune to the effects themselves. They are weak against fire.
Related Enemies
Edit
Ad blocker interference detected!
Wikia is a free-to-use site that makes money from advertising. We have a modified experience for viewers using ad blockers

Wikia is not accessible if you've made further modifications. Remove the custom ad blocker rule(s) and the page will load as expected.