Breath of Fire III Drama Album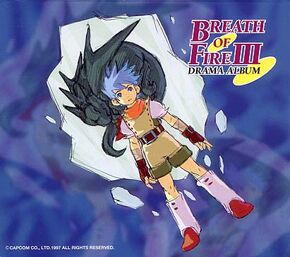 Information
Breath of Fire III is the first game in the series to feature voice acting, which is present only in battle sequences when the characters attack, cast spells, use items, etc. All voices were left in their original Japanese in the English version, and feature several anime and video game personalities, such as Tomoko Takai and Kappei Yamaguchi as both child and adult Ryu respectfully, Kyoko Hikami as Nina, Shuusuke Sada as Rei, Kaori Saitou as Momo, Yukihiro Fujimoto as Garr, Ai Kamimura as Peco, and Youko Matsui as Teepo.
In December 1997, Capcom's in-house record label SulePuter produced a radio drama album which featured several returning and new voice actors from Breath of Fire III, the Breath of Fire III Drama Album. Released exclusively in Japan, the album features full Japanese-language skits and full scenes performed from the game with brand new content in some instances. While Kyoko Hikami returns as the voice of Nina, Kappei Yamaguchi now performs as both child and adult Ryu, and several other cast members are replaced with more veteran voice actors such as Kotono Mitsuishi as Momo, Akio Ohtsuka as Garr, and Yukiko Matsuura (though she isn't a veteran voice actor) as Peco. Background music from the game accompanies each track, as well as a special song titled "Harmonica" performed by Kyoko Hikami.
Tracklisting
Edit
Ad blocker interference detected!
Wikia is a free-to-use site that makes money from advertising. We have a modified experience for viewers using ad blockers

Wikia is not accessible if you've made further modifications. Remove the custom ad blocker rule(s) and the page will load as expected.