Breath of Fire: Dragon Quarter Enemy
Deathcow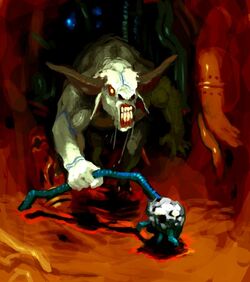 Attack
Defense
Magic
Speed
Move
75%
75%
75%
75%
75%

Location
Lift to BioCorp
Steal
Wild Swing

Fresh Meat

Steal Rate
1:4
Drop
Impact Seal +1

HP Up

Drop Rate
1:2
Abilities
Wild Swing

Spirit Charge

Info
Its huge body and long-reaching weapon make its Wild Swing cleave through all enemies. Don't get too close!
Deathcow is an enemy within Breath of Fire: Dragon Quarter.
A dangerous enemy during the early stages of the game, use traps to impede its movement and attacks that push it away when it gets too close.
Related Enemies
Edit
Ad blocker interference detected!
Wikia is a free-to-use site that makes money from advertising. We have a modified experience for viewers using ad blockers

Wikia is not accessible if you've made further modifications. Remove the custom ad blocker rule(s) and the page will load as expected.