Breath of Fire
Grimfowl
コカトリス Kokatorisu (Cockatrice)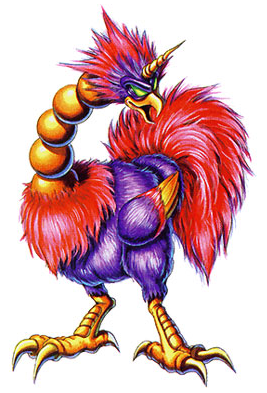 HP
AP
2000
100
ATK
DEF
ACT
WIS
170
50
80
140
EP
GP
4200
4800
Grimfowl is a boss found in Breath of Fire.
Grimfowl are large bird like creatures that are mainly docile untill provoked by such means as touching their eggs. Once the Grimfowl are angered they become violent and attack whatever posses a threat to them or their eggs.
The player must use this to their advantage by stealing one of their eggs which will cause the Grimfowl to follow the player till you get up to the Castle of the Empire which will trigger the egg to be thrown within its gates giving the player entrance to the castle as the Grimfowl attack the guards.

This section is a stub. Please help Breath of Fire Wiki by expanding it.
Related Enemies
Edit
Ad blocker interference detected!
Wikia is a free-to-use site that makes money from advertising. We have a modified experience for viewers using ad blockers

Wikia is not accessible if you've made further modifications. Remove the custom ad blocker rule(s) and the page will load as expected.