Ad blocker interference detected!
Wikia is a free-to-use site that makes money from advertising. We have a modified experience for viewers using ad blockers

Wikia is not accessible if you've made further modifications. Remove the custom ad blocker rule(s) and the page will load as expected.
Welcome to The Breath of Fire Wiki!
We are creating the ultimate online resource for the Breath of Fire series, and we need your help!
We are currently editing over 1,764 articles.
All pages can be edited, and you are welcome to join us and contribute to this wiki.
Come join us over on our Twitter and Youtube!


Popular Categories
Main Series

Manga

Audio Dramas

Spin-offs



Blogs
Update time! I new PV showing off some characters including some new ones have been released. You'll see some fight scenes including one with Klaus. Near the end you will notice that Nina shows her wings but also apparently helping out Klaus there is another member of the Wing Clan. 

Also more words…

Read more >
Affiliates/Links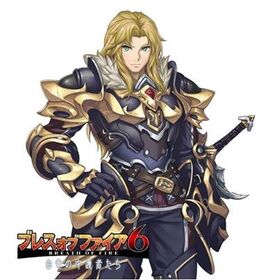 Artwork of Klaus from Breath of Fire 6.
Birthdays
---
Holidays
Breath of Fire II (North America) SNES Release Anniversary in 7 days
---
Wiki updates
Next Poll update in 8 days
(Event missing?)
Poll
Which game do you think has the best soundtrack?
Previous Poll Results
Who has been your favorite last boss to fight? Myria (Breath of Fire III) (26 Votes)
Helping out
If you are new to editing wikis, see Help:Contents.
You can also check out the To-Do list found here: Breath of Fire:To-Do List
If you want to help but aren't sure where to start, try improving the various stub articles by expanding them.
Another helpful activity would be to check the list of wanted pages for frequently linked-to articles that don't exist yet.
You can find a list of useful templates at Category:Templates.
JRPG Games
Go to these sites for info or for help with your own wiki!
Atelier • Breath of Fire • Chrono • Disgaea • Dragon Quest • EarthBound • Etrian Odyssey • Fairy Fencer F • Final Fantasy • Golden Sun • Grandia • Hyperdimension Neptunia • Hyperdimension Neptunia • Japanese PC Games • Kingdom Hearts • Megami Tensei • Mugen Souls • Parasite Eve • Phantasy Star • Pokémon • Radiant Historia • SaGa • Suikoden • Valkyria Chronicles • Valkyrie Profile • The World Ends With You • Xenoblade • Xenosaga • Yo-Kai Watch
Want your community included? See how!