Main article: Mote
Breath of Fire
Mote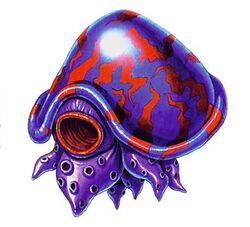 HP
AP
9000
Infinite
ATK
DEF
ACT
WIS
210
80
200
160
EP
GP
5400
6000

Element
Dark
Row
Front
Aiming
Normal
AB priority
6
Location
Mogu's Dream
Drop
F.Stn
Drop rate
13.28125%
Actions
Char
FireX
Info
{{{info}}}

This section is a stub. Please help Breath of Fire Wiki by expanding it.
Mote is an odd boss. He starts the battle looking like a few pixels. The more you hit him with physical attacks, the more pixels he gains, up to the point where you can see what he truly looks like. However, the more pixels he gains, the more resistant he is to physical attacks. The best thing to do is use Ryu and Karn (as Puka) for physical attacks. Then have Bleu cast cheap spells on him in order to keep him weak to physical attacks. Lastly, use Nina for healing. If you find Mote is gaining too many pixels, have Nina aid Bleu by either casting spells like "Hold" or by using the E.Key. When Mote enters his second wind, he'll begin casting "Inferno". Nina will be very important here for keeping everyone healed, as Inferno is much more damaging than his regular attacks he uses before his second wind.
Ad blocker interference detected!
Wikia is a free-to-use site that makes money from advertising. We have a modified experience for viewers using ad blockers

Wikia is not accessible if you've made further modifications. Remove the custom ad blocker rule(s) and the page will load as expected.