Chamba


チャンバの町 Chanba No Machi

Type
Region
I
II
III
IV
V
VI
Chamba is a location within Breath of Fire IV. It is one of the towns that suffered the terrible power of Carronade, causing most parts of town to be polluted by the hex. A group of engineers known as the Purifiers work hard to restore it back to normal. Cleansed and uncleansed parts of town are divided by a high fence. The cursed segments are inhabited by monsters mutated by the curse's presence.
Ryu and Nina arrive in a small part of town, which has already been cleansed from the hex. Here they learn from the town chief, Tahb, that in order to proceed they need a guide to lead them through the polluted parts of town. Ershin then appears and offers to lead the party.
North Chamba
Edit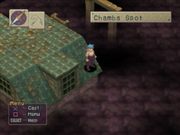 Ershin leads the duo through North Chamba, the cursed part of town. Due to the dark, thick fog filling everything around, the group travels on the rooftops where the hexed mist is not as thick. As Ershin is protected by her thick suit of armor she is able to survive in the lower levels, which she uses to solve puzzles, allowing the others to continue through town. Near the end of the town, Skulfish appears from under the bottom of the fog and destroys the bridge back to Chamba, attacking the party. The team defeats the monstrosity and continues forward out of the mist.
Later in the game it's possible to return to North Chamba to fight an optional boss Angler. After that North Chamba becomes a fishing spot.
| Item | Location |
| --- | --- |
| 300 Zenny | North east roof |
| Healing Herb x3 | South west roof near the entrance |
| Molotov | North west roof in the second area of North Chamba |
The theme that plays here is called "Unbearable Atmosphere", reflecting the area's cursing spirit.