Breath of Fire
Pincher
デスクラブ Desukurabu (Death Crab)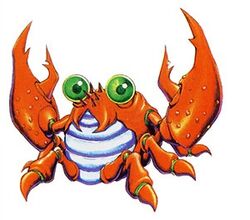 HP
AP
1000
200
ATK
DEF
ACT
WIS
190
200
0
160
EP
GP
4800
4800

Element
Lightning & Earth
Row
Front
Aiming
Normal
AB priority
6
Location
Eastern Sea Floor
Drop
F.Stn
T.Drop
Drop rate
13.28125%
Actions
Lstorm
Info
-
Pincher is a boss found in Breath of Fire.
The Pincher is encountered during the battle of Prima. He first appears as a General that then transforms into this orange and purple large crab like creature.

This section is a stub. Please help Breath of Fire Wiki by expanding it.
Related Enemies
Edit
Ad blocker interference detected!
Wikia is a free-to-use site that makes money from advertising. We have a modified experience for viewers using ad blockers

Wikia is not accessible if you've made further modifications. Remove the custom ad blocker rule(s) and the page will load as expected.