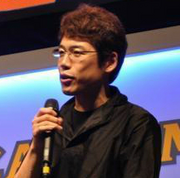 Tatsuya Yoshikawa
(吉川達哉, Yoshikawa Tatsuya) is a concept artist, character designer and illustrator. He joined Capcom in 1992 and worked on the in-game graphics and character design of the first five Breath of Fire titles.
Yoshikawa left Capcom in 2011 to become a freelancer, later providing promotional art for Blade Fantasia and working with PlatinumGames on Star Fox Zero.
Breath of Fire
Edit
Ad blocker interference detected!
Wikia is a free-to-use site that makes money from advertising. We have a modified experience for viewers using ad blockers

Wikia is not accessible if you've made further modifications. Remove the custom ad blocker rule(s) and the page will load as expected.