Breath of Fire
WarHog
オーク Ooku (Orc)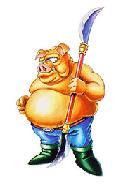 HP
AP
50
0
ATK
DEF
ACT
WIS
60
24
20
30
EP
GP
160
80

Element
Dark
Row
Front
Aiming
Normal
AB priority
2
Location
Tantar
Agua
dragon mark near Scande
Lament Woods
Agua
cave north of Tantar
Krypt
Drop
Meat
Antdt
Drop rate
6.640625%
Actions
-
Info
Characters can neither evade nor counter normal attacks
WarHogs also known as Orcs is an enemy found in Breath of Fire.
WarHogs are humanoid pig creatures that use spears as weapons. They tend to appear in groups of two or with other monsters.
The name WarHog is made of the words war, suitable as WarHogs are prepared for battle, and hog, which WarHogs look like.
WarHog sounds like Warthog which is a type of pig.
WarHog could also be a play on words for "War Pigs", either as reference to the use of swine in battle, or for the Black Sabbath song of the same name.
Related Enemies
Edit
Ad blocker interference detected!
Wikia is a free-to-use site that makes money from advertising. We have a modified experience for viewers using ad blockers

Wikia is not accessible if you've made further modifications. Remove the custom ad blocker rule(s) and the page will load as expected.